I've made a list, and checked it thrice for a few of my favorite things this year….
This list is longer than years past. Since I have laid low for awhile, consider this my apology of love.  For shopping and perusing purposes, click on the pink highlighted title of each item to be directed to the link of the item mentioned!  I do not profit on any purchases from the links.  However, I have all Amazon products linked to benefit The Cove in Waco, which helps teenagers experiencing homelessness.  So, don't be a Scrooge, help the kiddos and purchase from the links!  More info about The Cove later…
Let's dive into some favorites!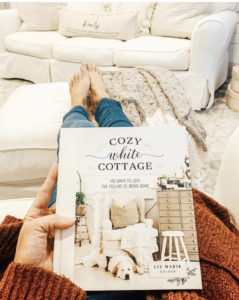 Cozy is my true love language.  The past few years, I've focused on rearranging, decorating, and bringing in what makes our home feel like an inviting place to snuggle up and relax.  I read and collect a lot of books – especially favorites that also double as beautiful decor. This one is by Liz Marie Galvan, who has a gorgeous blog and instagram you should check out.  Cozy White Cottage is written so well.  Wonderful content and completely doable ideas for the common folk.  It is also a gorgeous coffee table book.  You are welcome to come over, prop your weary feet up and read it beloved.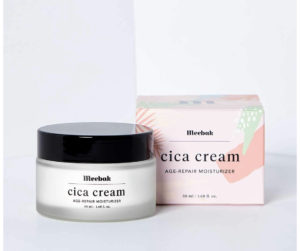 I found this gem of a face serum/cream through an Instagram friend, I ordered it from Amazon without a lot of hope, due to my skin being sensitive.  This is so soothing, moisturizing, and amazing – I've already gone through 2 jars.  Since it is priced so well (around $17!), I use it liberally on my neck and chest as well.  Cica Cream is a high grade Koren skincare cream.  It's a formulation that has been around for centuries, dating back to when the ancient Greeks would steam chamomile into their pores. Google it to see for yourself and then order you some.  I would not lead you astray on skincare.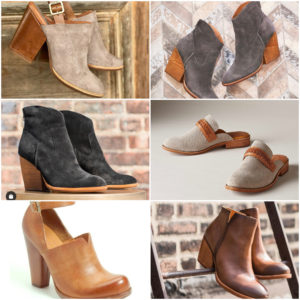 I stumbled on this brand last year, and they quickly became my favorites. If I am looking a new style of foot wear, I look for a Kork Ease option first. Let me admit, the name alone made me feel like I had given up on fashion and was going straight orthopedic shoes – if you feel the same, I promise the style, cushion and comfort of Kork Ease will melt away any worries you may have.  From personal experience, I can tell you their options of boots, pumps, clogs, mules, and wedges are all great choices.  Like these, and these, and these.  Your feet will thank me – I promise.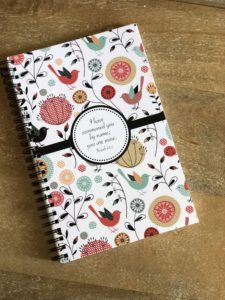 This was a favorite birthday gift, given by a precious friend.  Each journal is custom made to place your name in 72 different scriptures.  Each page of the journal has a scripture written on the bottom.  Like this…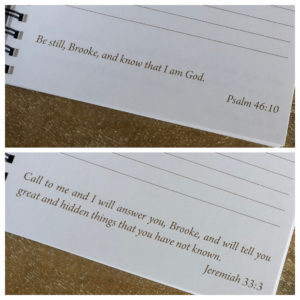 Seeing my name in scripture makes me hear and feel it deeper.  What great gift for a loved one, including yourself!  Customize your own at Paper Sunday.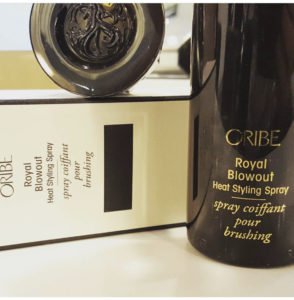 This stuff is liquid gold.  Blowdrying my hair is my least favorite chore, but I'm thankful for hair, so I look for products that make it easier.  Like this spray and my favorite blowdryer from the Favorite Things 2017 list.  I need to apologize for putting something on my list that cost as much as this spray. (But the dryer is $32, so perhaps that helps?)  I blame Corrie and Mason. I get it wholesale since I birthed and raised my hairdresser, so, maybe see if you can talk a child into cosmetology school?  If you want to try this brand or product, and can't find it wholesale, maybe start with the travel size.  It also doubles as a perfume, as it smells heavenly.  I'd love to try the other hair products Oribe offers, but haven't figured out which kidney to donate.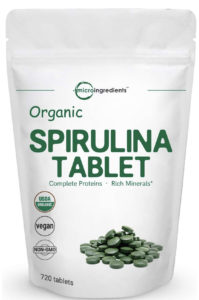 I have an amazing cousins, one being my favorite health guru who always provides me with answers to my health questions.  These little Spirulina tablets are a favorite supplement that we take, they assure that we get the protein we need from greens.  They are rich in protein, amino acids, vitamins, minerals, and antioxidants – a green superfood!  The tablets are small, so taking several at once is not a problem at all.  I take them by small handfuls. Maybe large handfuls on the days I eat bad, which is most days. #healthnut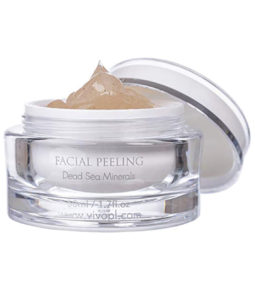 I bought this exact facial exfoliant peel from a sales booth last year.  I loved it, but couldn't find it again to reorder.  I was so excited to find it (through a recommendation on Amazon) for 1/4 of the price…less than $12! It gently exfoliates, cleanses, brightens skin, and reverses aging. I "peel" twice a week, and get so excited when it is time to use it!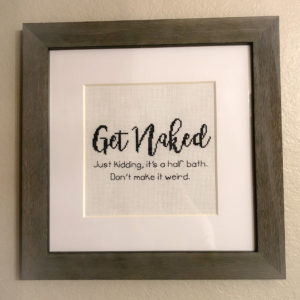 If you love cross stitching, or wish to start a new hobby – this Etsy Shop Seven Gnomes Stitchery has the CUTEST and most creative patterns!  Jillian, the owner and creator, is so great to work with, and also offers custom creations from time to time, like the pattern above that I stitched for our Powder Room.  My family doesn't think I'm near as funny as I am.  (If you follow me on Instagram and have seen some of the bible verses stitched, this is the Etsy store they came from!)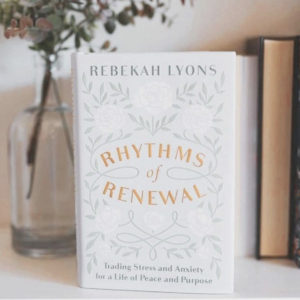 This book just makes so much dang sense.  It's sweet and incredible. Daily struggles with anxiety and stress make it difficult to receive God's peace. Rhythms of Renewal  will help you trade your anxiety for the vibrant life you were meant to live through four rhythms: Rest, Restore, Connect, and Create.  You can take a quiz on her website to discover your healthiest rhythm, the one that comes most naturally for you. Then receive input and feedback on the remaining rhythms, with actionable steps on ways to strengthen and grow.  Shocker that mine was NOT rest, but with this book, I'm learning!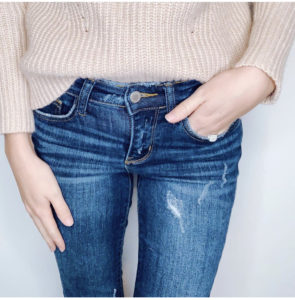 Oh, these jeans!  I can live life so much better in comfy clothes.  Judy Blue is new to me.  I found them at Apricot Lane here in Waco, they come in so many shapes and washes and have a GREAT price point, usually around $39 or $49.  They have a great stretch that still holds structure.  The sizing comes in odd sizes, for reference – I wear a 4/6 or 27/28,  in these I usually wear a 3.  The rule of thumb is that if you can stretch them out past an inch, then you need to size down.  I also have one pair in a 5, and wear those just as much since they don't lose their shape and bag.  Swing into Apricot Lane for more fun fashions! You will love Kristin and staff!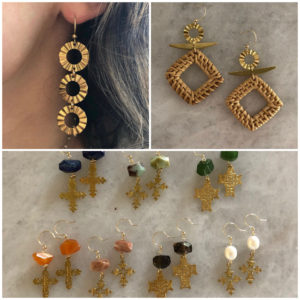 I found this talented gal when I was looking for unique earrings for a friend.  I ended up with earrings for myself as well – she has great designs and they are all so LIGHT!  Which is a big deal to me, heavy earrings ruin a great attitude.  Lauren is young, hip and makes jewelry for a great cause – yearly trips to Haiti for mission work and sponsoring Odinia, a young girl in the Mission of Hope school system.  Order from her website, or follow her on Instagram!
Before I found this on Amazon, I was texting our Skin Magician to stop in with my boys for her to "zap their zits" weekly.  This high frequency treatment kills the bacteria directly beneath while simultaneously providing a natural boost of cellular energy to both kill acne causing bacteria and reduce inflammation at the same time.  My girlfriend uses it for anti-aging purposes, to boost circulation and collagen product which help "plump" skin cells to fill in voids which are the underlying cause of wrinkles and fine lines.  The price of this is incredible (less than $35!), we use it so much that it is out on the counter more than stored away neatly.  Zappin' our life away!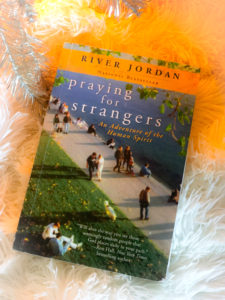 This is the sweetest read.  It's an easy book to curl up and devour in a sitting, or read an easy chapter a day.  I've always thought of prayer being a vertical connection to God, until reading this I realized it could also be a connection to others.  A great book and gift.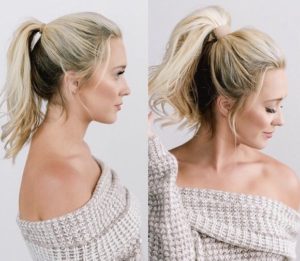 I have a lot of hair and still can't get a full pony tail look…until these.  Pony O's are completely different than your basic hair ties.  Watch the videos on their website to see if they are for you before ordering.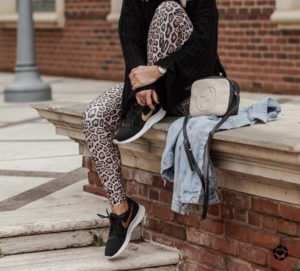 These sneakers are so comfy – I train in them, dance in them, run in them, errand in them, and lounge SO well in them.  **Warning – They are so comfortable that you will want other colors.  I've linked these to Nordstrom Rack, where I ordered my first pair.  I've found all the other pairs on Amazon and Poshmark.  They run true to size.
*If you are wanting these soft and amazing jazzy leopard leggings, you can get them on Amazon!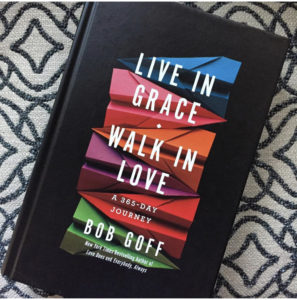 It's no secret what a huge fan I am of Bob Goff and his teachings. He has a new devotional out that is going in all stockings this year!  It's just as nourishing as all his other books – a great start or end to any day.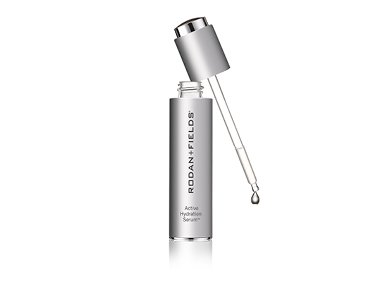 This is a must have for all skin types.  One of my main concerns with my skin is hydration, which is a battle with combination skin.  Super fun. This miracle serum balances moisture levels and raises skins hydration by 200%, and maintains hydration for 8 hours.  It's incredible!  Add to your face before you "Zap" it with the high frequency therapy wand.  *They have a body cream option, Active Hydration Body Replenish that is the only body cream that keeps my legs hydrated in the winter.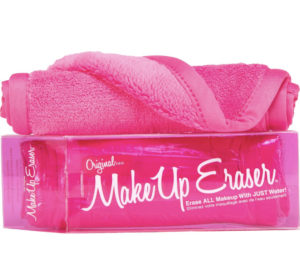 A friend told me about these over the summer and I can't thank her enough.  These are the BEST – simply wet and cleanse your entire face.  All your makeup, including eye makeup will be GONE!  It's my favorite magic trick yet.  You can find them at Amazon or Nordstorms.  They have mini travel makeup erasers too!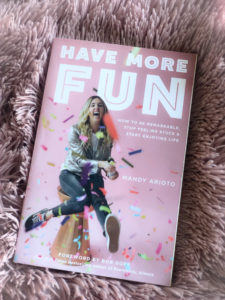 A friend gave me this book at what couldn't have been a more perfect time. "How to be remarkable, stop feeling stuck, and start enjoying life."  This book is light, funny, and deeply good for the soul. If you aren't sold on reading it, pick it up and read the Conclusion…yep, the last chapter.  I'm giving you permission to skip to the end.  If that doesn't speak to your dried bones, then this is not the book for you.  If it does speak to you, the audio book is a great one as well!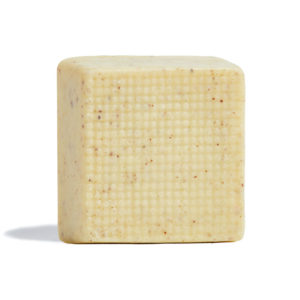 These little guys are a moisturizing life saver. Truly.  A friend got me hooked on these a couple of years ago. Lush is an amazing store with a story to match. This Body Butter Bar is as exfoliating as it is moisturizing.  They also have a travel case that goes with the bars, so it can be gifted neatly to those who are hard to shop for…who doesn't want soft skin?!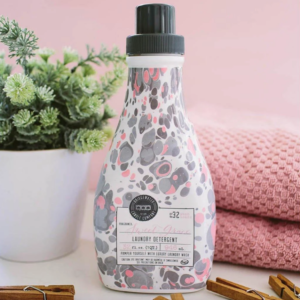 Sweet Grace has been my favorite candle scent for years, but recently I was turned on to their laundry detergent…heavenly! I have linked it to Amazon, however if you are local to Waco – Wildflower Boutique on Richland carries all of the Sweet Grace scented goodies!  Stop in and see her!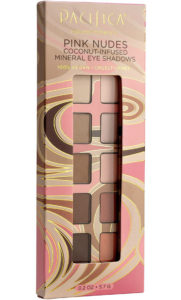 Found this and several other favorites from my Instagram friend Cattle Baron in Cashmere...keep reading for more info on her shortly!  I don't wear eye shadow much, due to lack of effort or care.  This has been a fun jazz up to my makeup routine!  Love the soft, pinky nudes of this pallet.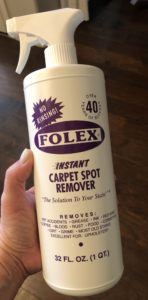 Apparently I am the last person on earth to know about this miracle cleaner.  I have to share it in case anyone else is living under a rock.  This is the best carpet/rug spot cleaner!  Even for red wine!  It's great to have on hand with a house full of teenage boys…it has saved their life several times.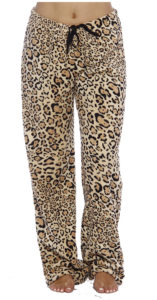 These PJ pants came in the same gift as the Scripture journal back in the summer, which means my precious friend knows me well.  PJ pants and a journal…two paths straight to my heart.  These are so soft and warm, which are MUST haves in our house that is always freezing to this Momma.  They come in several other colors and patterns with still the same plush goodness.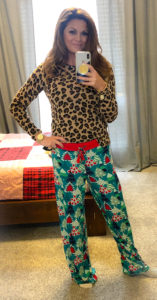 It is a well known fact that if I am home for longer than 4 minutes, I will change into comfy clothes, or half change.  Even when I'm home between work meetings, hence this photo above. I had 1 hour to hang curtains in our son's room and couldn't do it in heels and work pants.  So, I semi-changed – Business on top, Cozy on the bottom. I used this photo to show you the length of these pants is perfection.  The material is definitely made of angel wings.  They are solid and soft.  A good rule of thumb is to grab a pair from each season of Matilda Jane.  Here is a link to their other pj pants of the season if the Christmas jammies are sold out in your size.  The sweetest part of these is their non-judgmental nature.  They will live in harmony with whatever color or print top you wear them with.  (See photo for proof)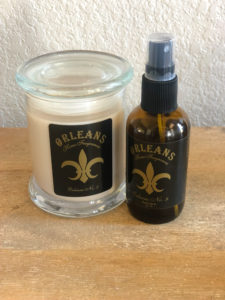 A friend of mine got so tired of me commenting on how amazing their house always smells, she finally gifted me with my own Orleans No 9 room spray.  I love room sprays, but get frustrated when the scents don't last long.  I can spray this in the morning, and still enjoy it when we walk in the house that evening!  I don't know what the difference is in this one, but it is a big one.  She found it at a Boutique in College Station, but here is it on Amazon, with their other scents for pursuing. I'd always rather shop local, so if you know where to get it around Waco, please let me know!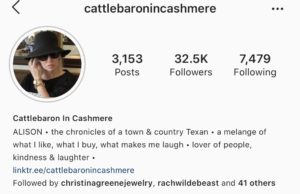 I adore this gal and her Instagram account.  She is hilarious, shares the funniest memes, has the BEST recipes and Amazon finds!  So many of my favorite things, were found through Alison.  Besides my kids, I don't even know why I got on Instagram every day before Cattlebaron in Cashmere.  Give her a follow, you won't be sorry.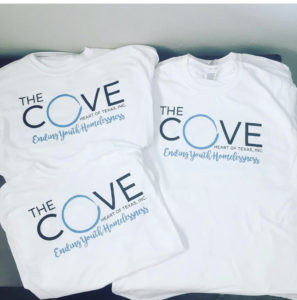 The Cove is a teen nurturing center designed to provide a safe space for students experiencing homelessness to access the resources they need to thrive.  Our friend, Alicia, introduced me to this organization.  Until I learned about it through her, I have to admit – I had no clue how many teenagers experience homelessness.  Let's do something?  Whether it be a small donation or your time. If you aren't local, I encourage you to look in your own town to find a need to help with.
Lastly, one of my Favorite Things this year and every year, are friends like these.  Friendship is built of 1,000 small kindnesses, a lot of acceptance, and a little bit of patience.  Swapped back and forth, and over again.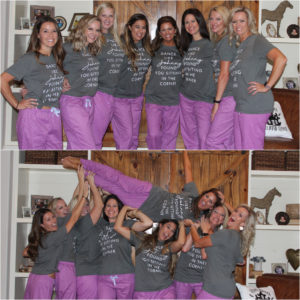 Thank you for being a friend.
XOXO –
Brooke
*Featured photo by Alyssa Simmons.